We've been spotted in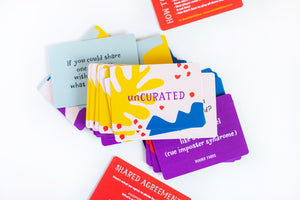 unCURATED card game
Sale price Price $25.00 Regular price
unCURATED wins Plywood Presents: Idea Competition
THE PEOPLE HAVE SPOKEN
"Fantastic questions to encourage thoughtful reflection. I especially love the 3 "levels," which allows participants to warm up a little both to the depth of consideration and to the group."
THE PEOPLE HAVE SPOKEN
"I have never encountered something like unCURATED in my entire life. I played this game with two very good friends, unknowing of how immeasurably impactful it would be on our relationships. That night we played together, we cried, laughed, and ended a 2-3 hour play session having become emotional anchors in each others' lives. unCURATED guided us through how to be vulnerable with each other - and that helped us connect on a level we never had before." 
THE PEOPLE HAVE SPOKEN
"Played this at a dinner party tonight with strangers! It was really fun, definitely makes you think and is sure to spark conversation!"
THE PEOPLE HAVE SPOKEN
"I played it with my boyfriend of two years and two of our very best friends. Although we already knew each other very well, it opened up the door to many personal stories and deep thoughts that we never really knew about each other, all while laughing and enjoying each other's company and, of course, some wine. Love it!!!"