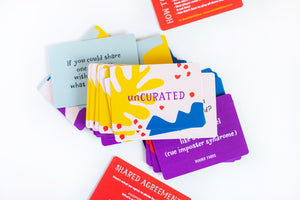 unCURATED card game
Sale price Price $25.00 Regular price
Let's face it. Small talk sucks!
We crave to be seen, to see others, and to see ourselves more deeply.
As the world grows more interconnected, we have become more disconnected.
unCURATED® is a card game with three rounds of questions designed to help you have meaningful conversations while practicing holding space.
We hope these conversations cultivate connection, empathy, self-awareness, and basically all the things essential for our emotional well-being.
Shall we?

• Three rounds of questions
• 16 questions per round
• Shared Agreements card [i.e. rules for holding space]
• How to Play card
• 50 cards total per deck

Orders ship once a week, every single Tuesday. You'll receive an email update with tracking information once it leaves our hands and heads your way. If you have any issues or need your order shipped sooner, email us at hello@uncuratedco.com. 

unCURATED was designed and created in Atlanta and printed in the USA using environmentally friendly and sustainable printing methods.