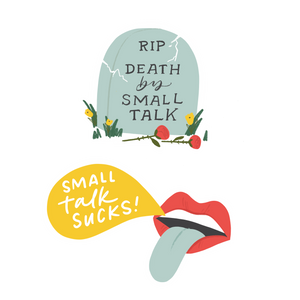 Death by Small Talk and Small Talk Sucks sticker combo pack
Sale price Price $9.00 Regular price
Decision fatigue is alive and well, so we've put together a combo pack of our tombstone and potty mouth stickers for one less decision on your part.

Sticker details:
• Death by Small Talk sticker measures 3x3 inches
• Small Talk Sucks sticker measures 3x2.5 inches
• die cut
• made of thick vinyl
• matte finish
• weather and water resistant
• packaged together in a poly bag

Looking to purchase a large quantity? You're in luck – we have volume discounts!

50 - 99 packs at 10% discount
100 - 149 packs at 15% discount
150 - 199 packs at 25% discount
200+ packs at 35% discount

Drop us a line at hello@uncuratedco.com and we'll get you all set up.